For the vacationer of the unwanted coast
Diploma project at the Department of Architecture, University of Patras (2023)
Architects: Stelios Raphael Sakellariou, Athanasia Tsifoutidou
Supervisor Professor: Panos Dragonas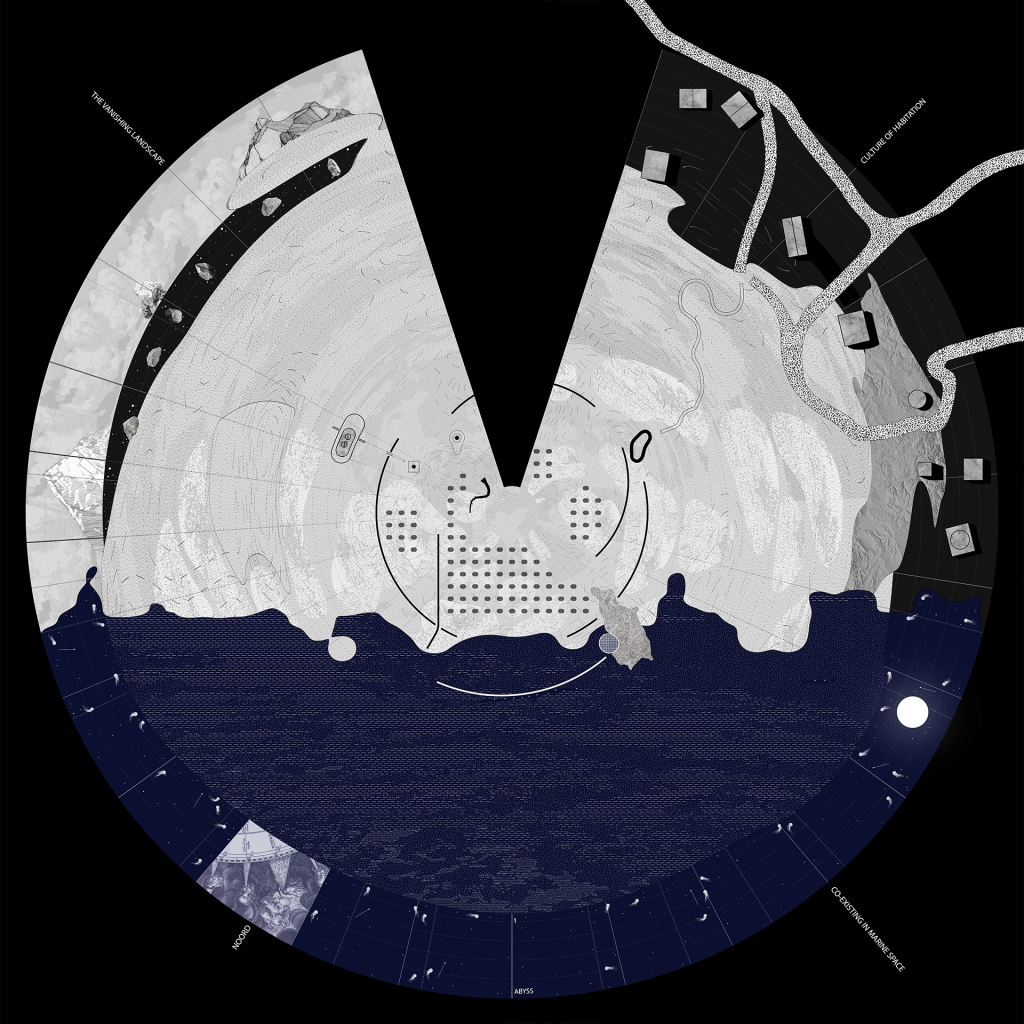 The project comments on the experience of the organised beach by creating a mechanical landscape without defined space-time coordinates. The subject, the vacationer, experiences a beach site adapted to the ongoing environmental crisis of coastal ecosystems. The design of the organised beach is revised, taking into account a hypothetical scenario for the development of the known beach culture. The project aims to raise concerns about the way we currently consume coastal landscapes and our relationship with our favourite seashores. It also raises questions about the resilience of coastal ecosystems and the possibility of sustaining our desire to enjoy the coast in the future.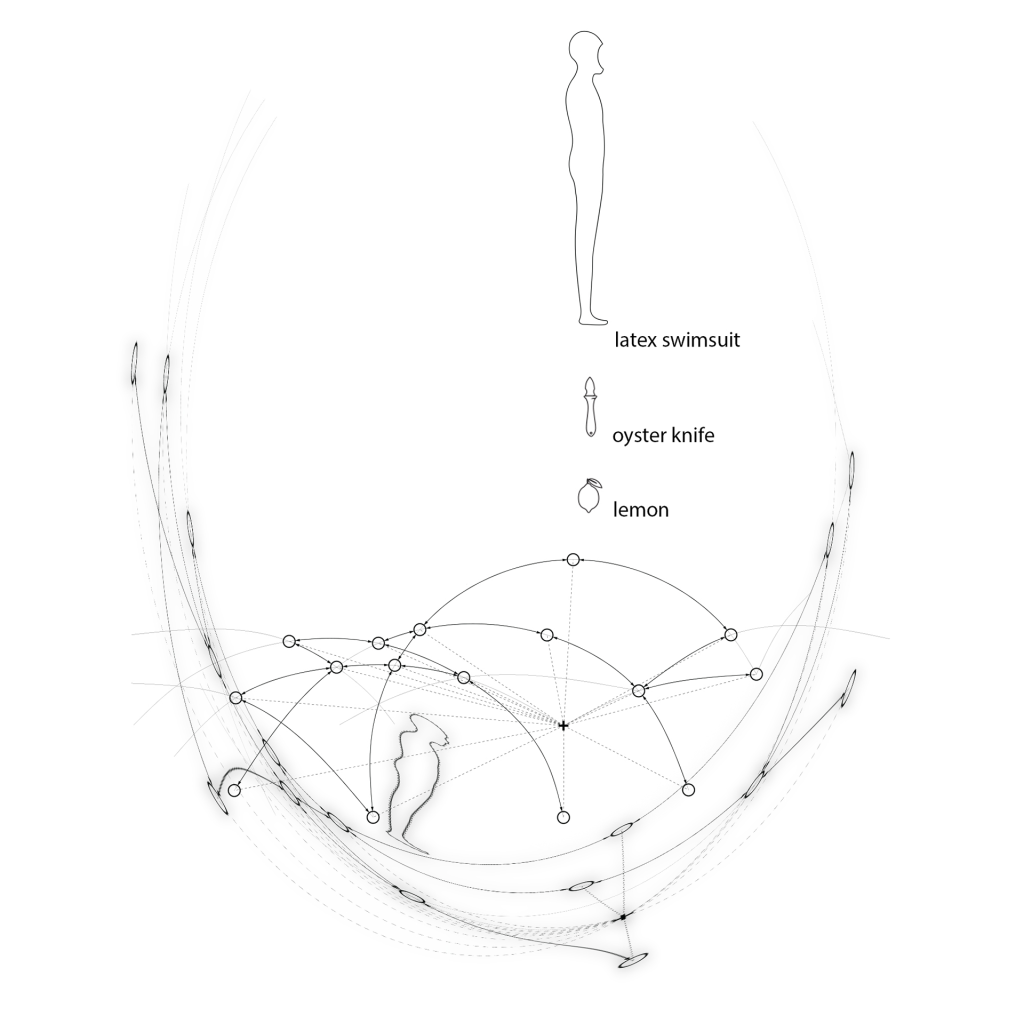 A one-piece latex suit, a shell knife and a lemon will be the subject's equipment during the transformation into the vacationer of the unwanted coast.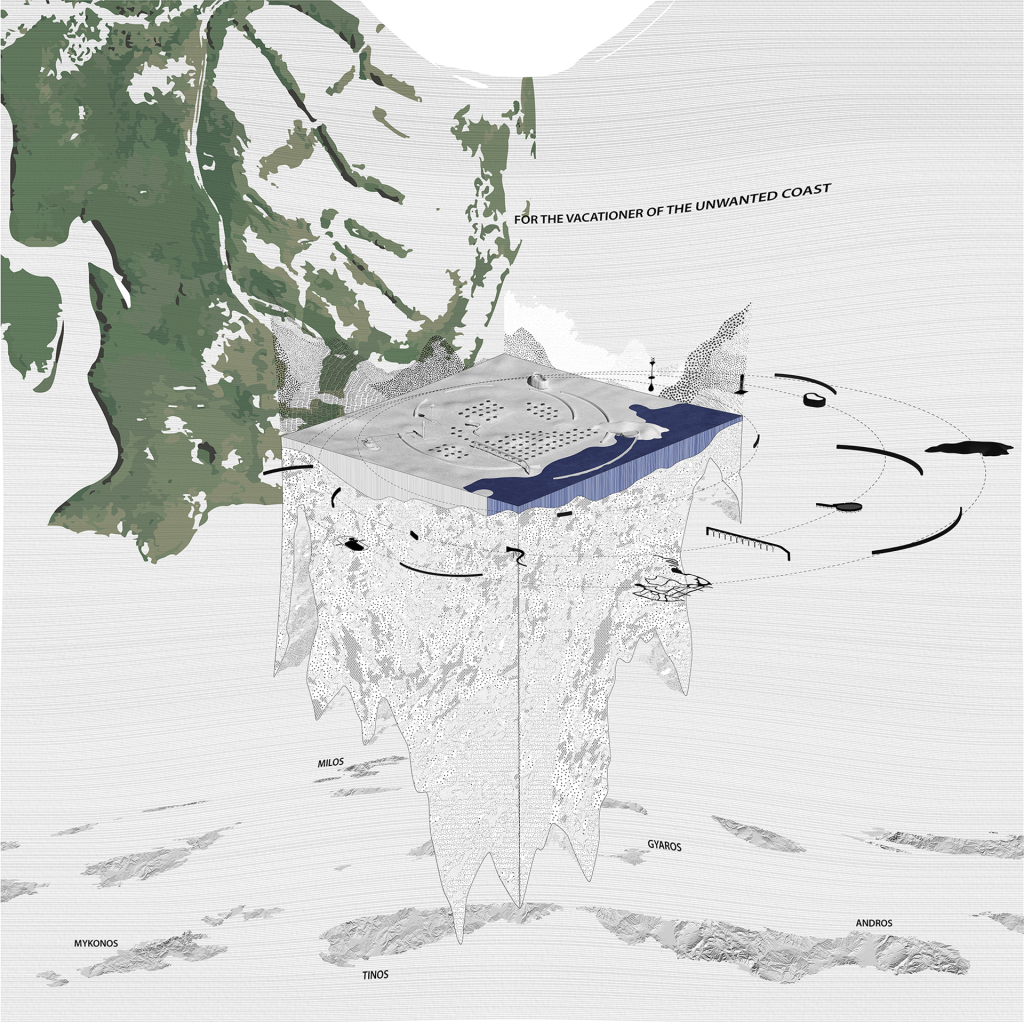 The project has no specific time or place. It acts as a mechanism on northern island beaches where the effects of the climate crisis are transforming them into vulnerable landscapes.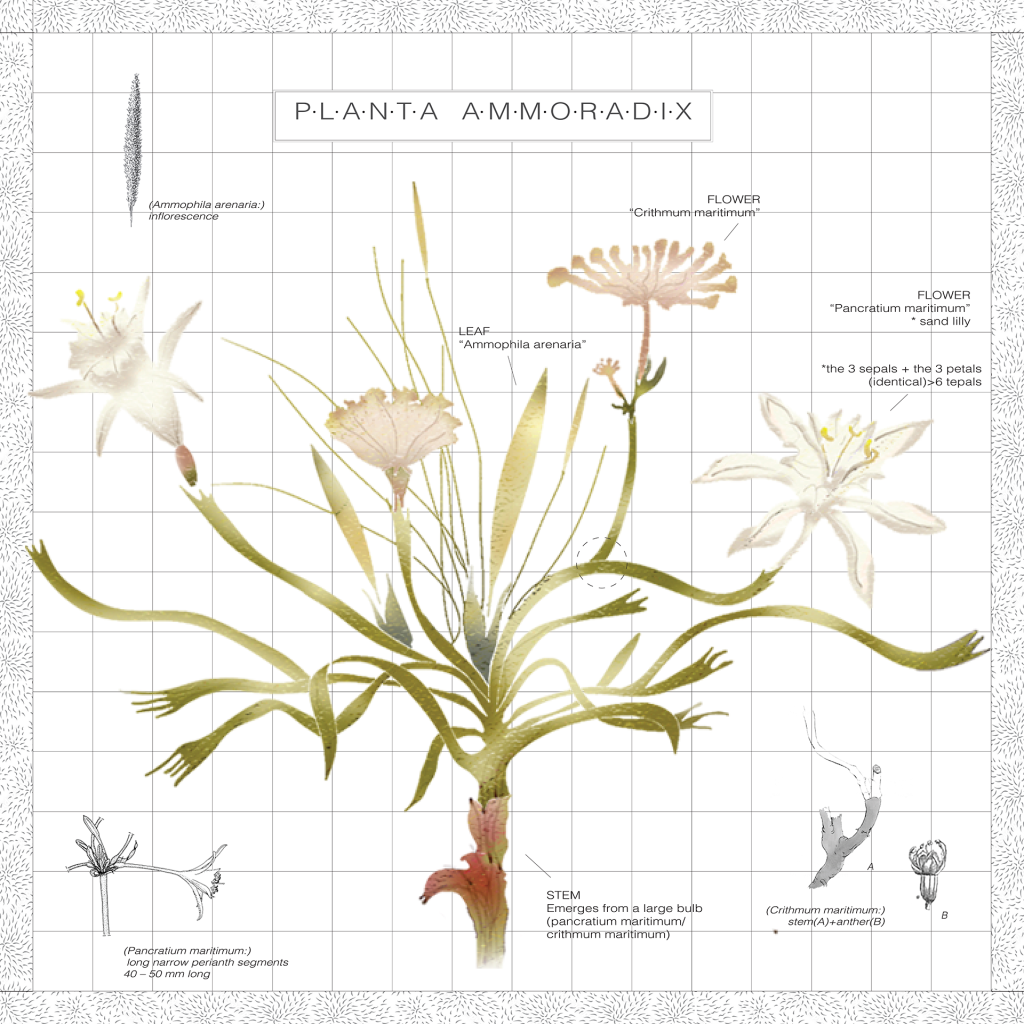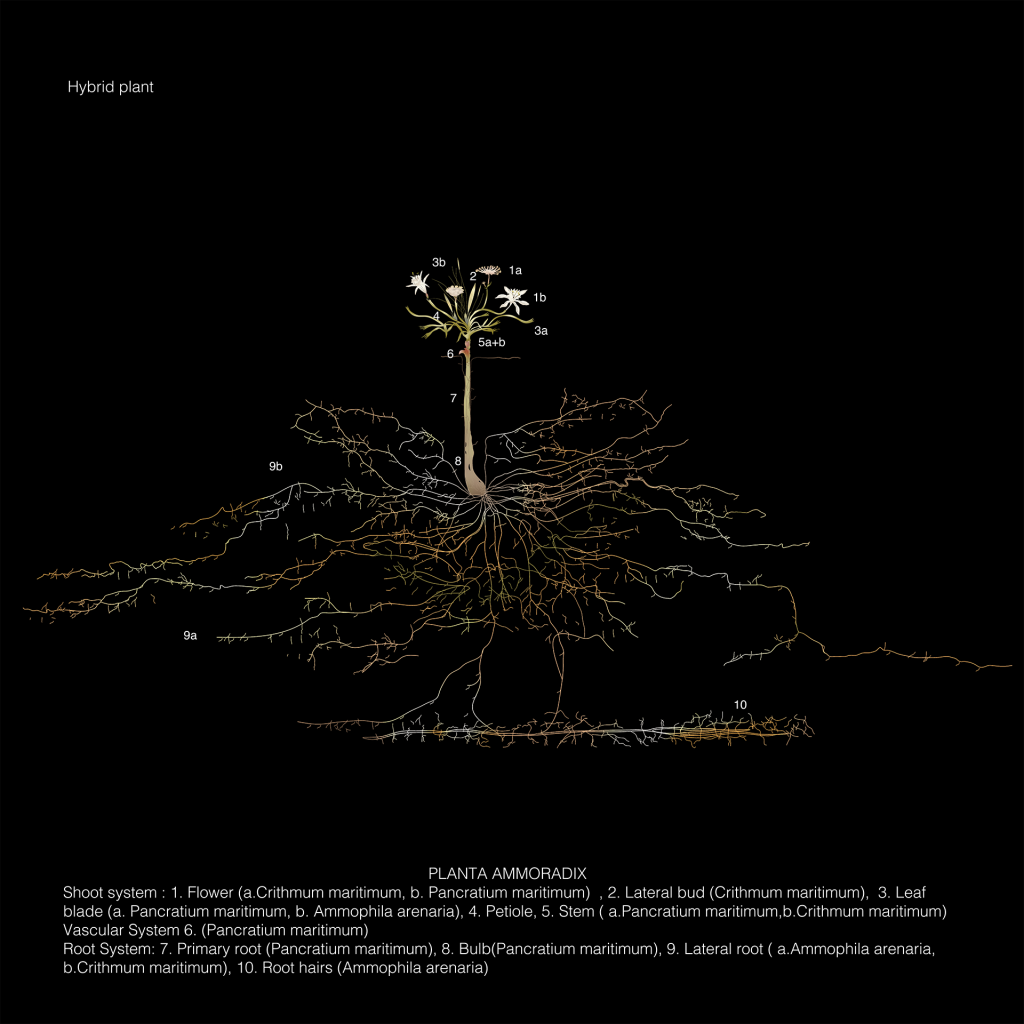 Planta Ammoradix: A new, speculative, non-existent plant hybrid with a rooting system that stabilizes large areas of sand.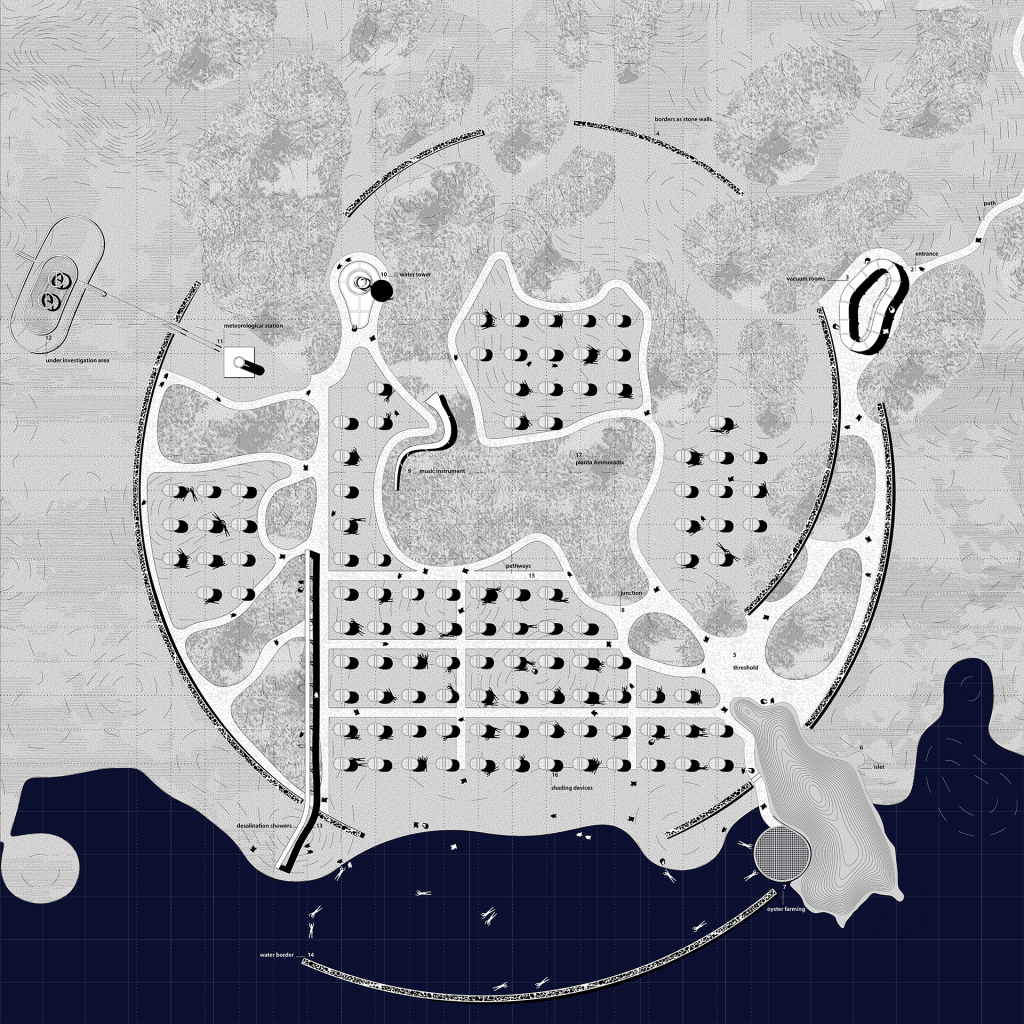 "The modern vacationer is not there to face the fury of the waves that eat away at the cliffs and break the rocks. If they are on the beach, it is because it is peaceful; they want the sandy beach, their own beach, sheltered – protected from everything."
Jean Didier Urbain. Στην Ακροθαλασσιά. Η μεταμόρφωση του ταξιδιώτη σε παραθεριστή.
Contrary to what they expect, the spatial and programmatic perspective that the subject usually experiences on the beach is overturned. Within the confines of the organised beach site, a walk connects a network of mechanisms, nature and the sea that will redefine their presence on the shore.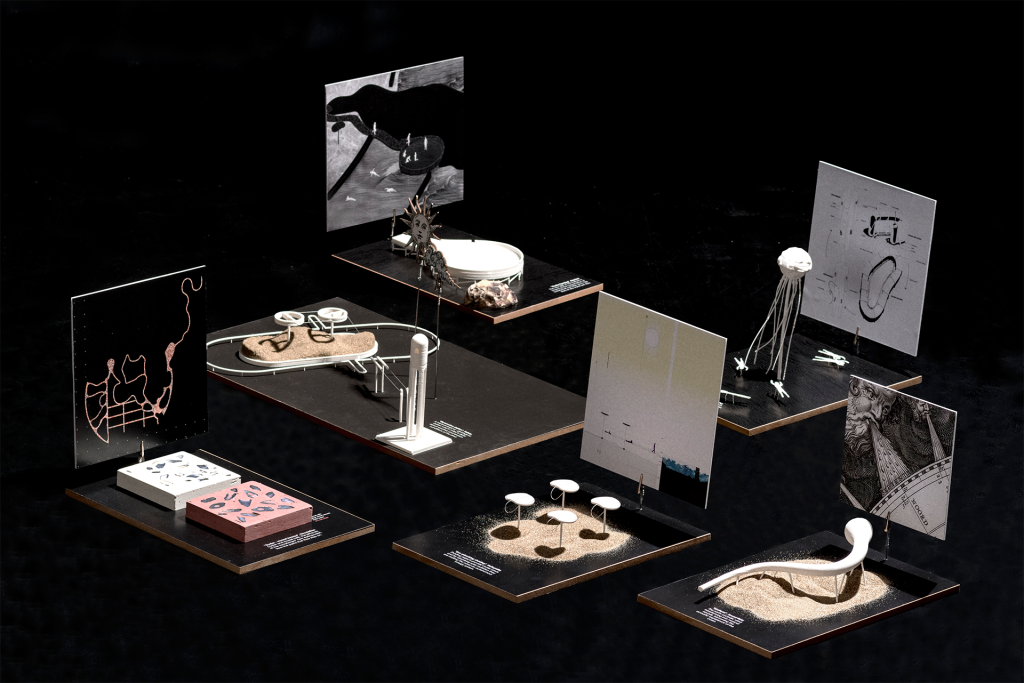 Six mechanisms redefine the actions of the holidaymaker, interacting with both the landscape and the human body.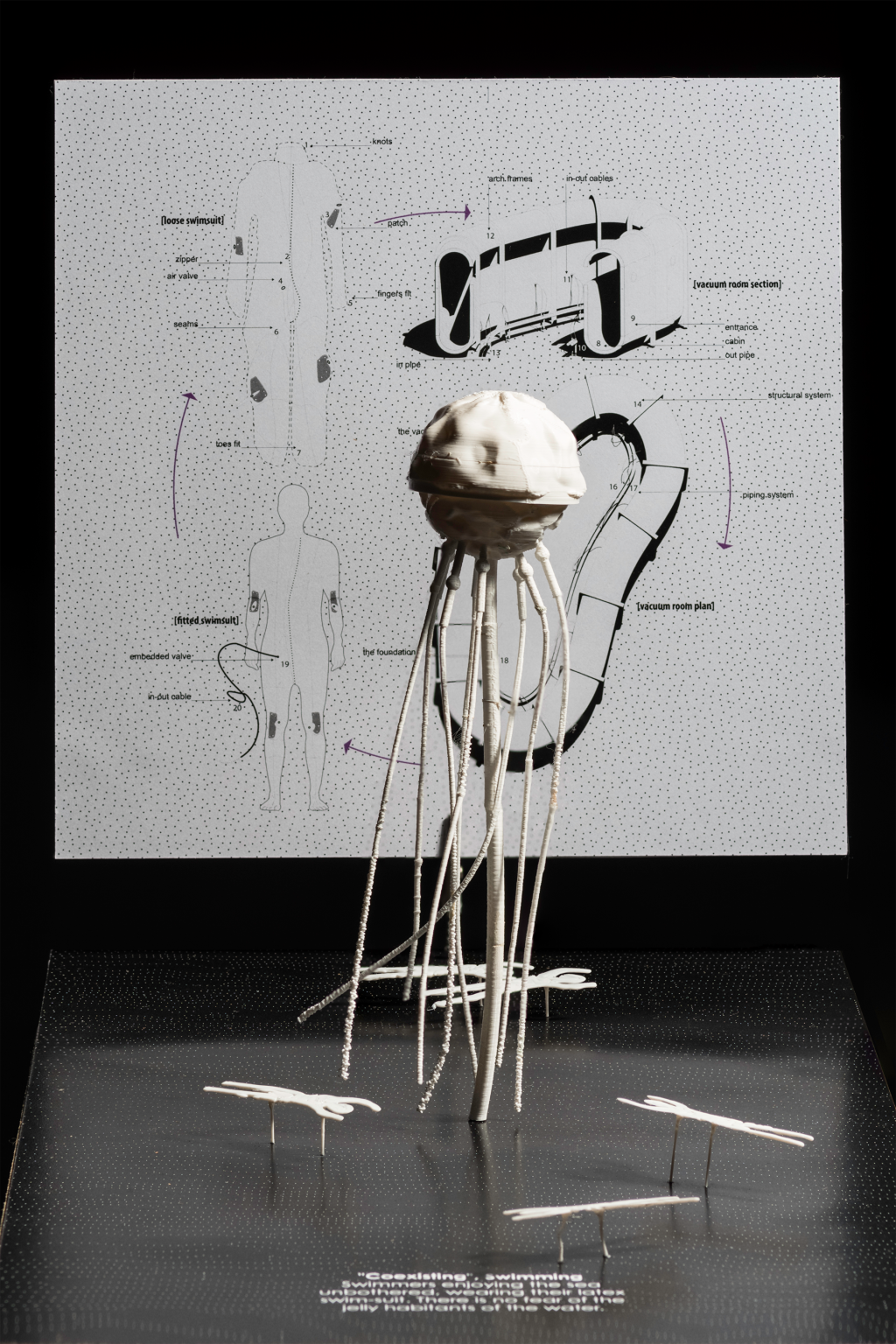 A new swimming and sea condition imposes a symbiosis with jellyfish.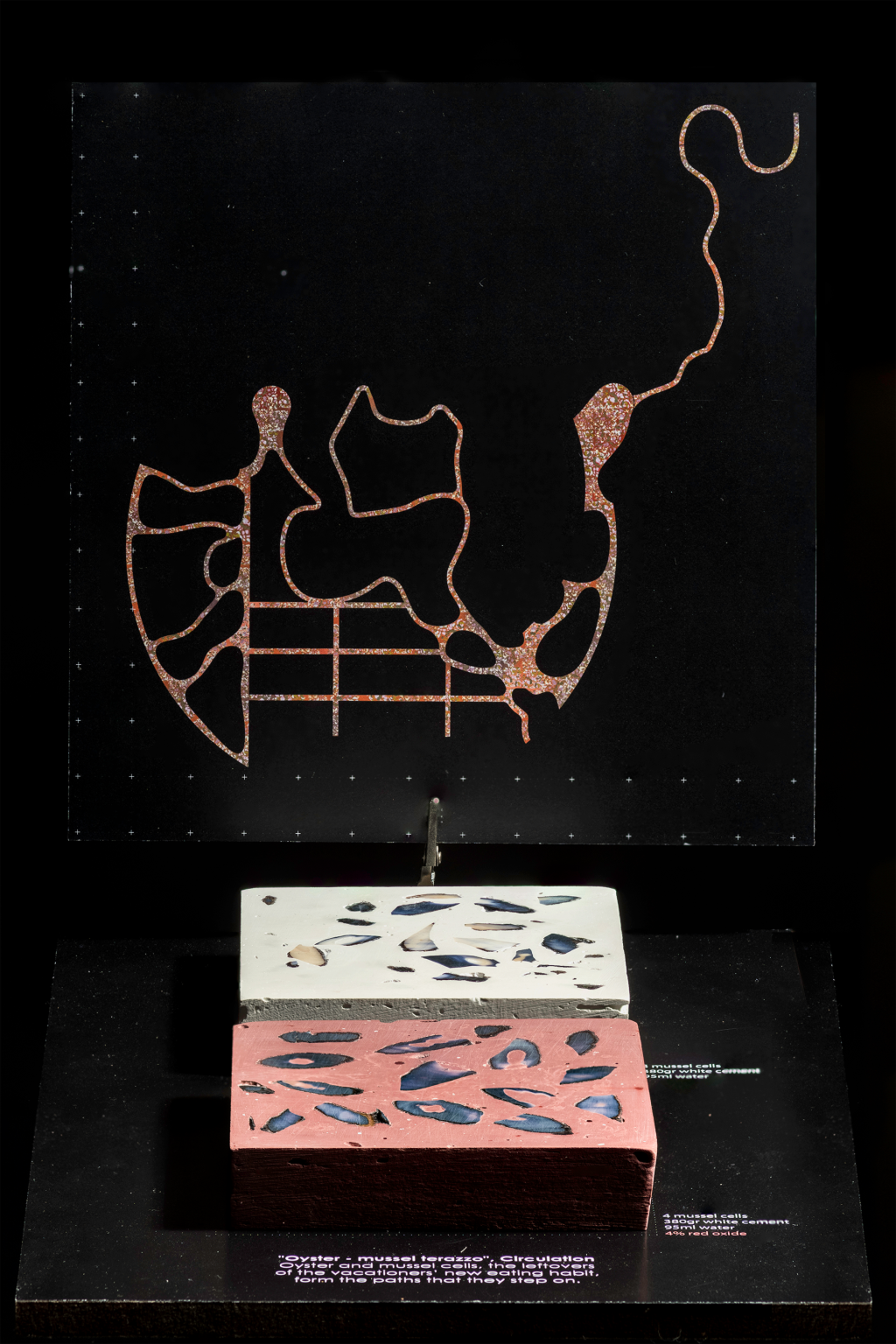 A terrazzo floor made from shells, the remains of the vacationer's diet.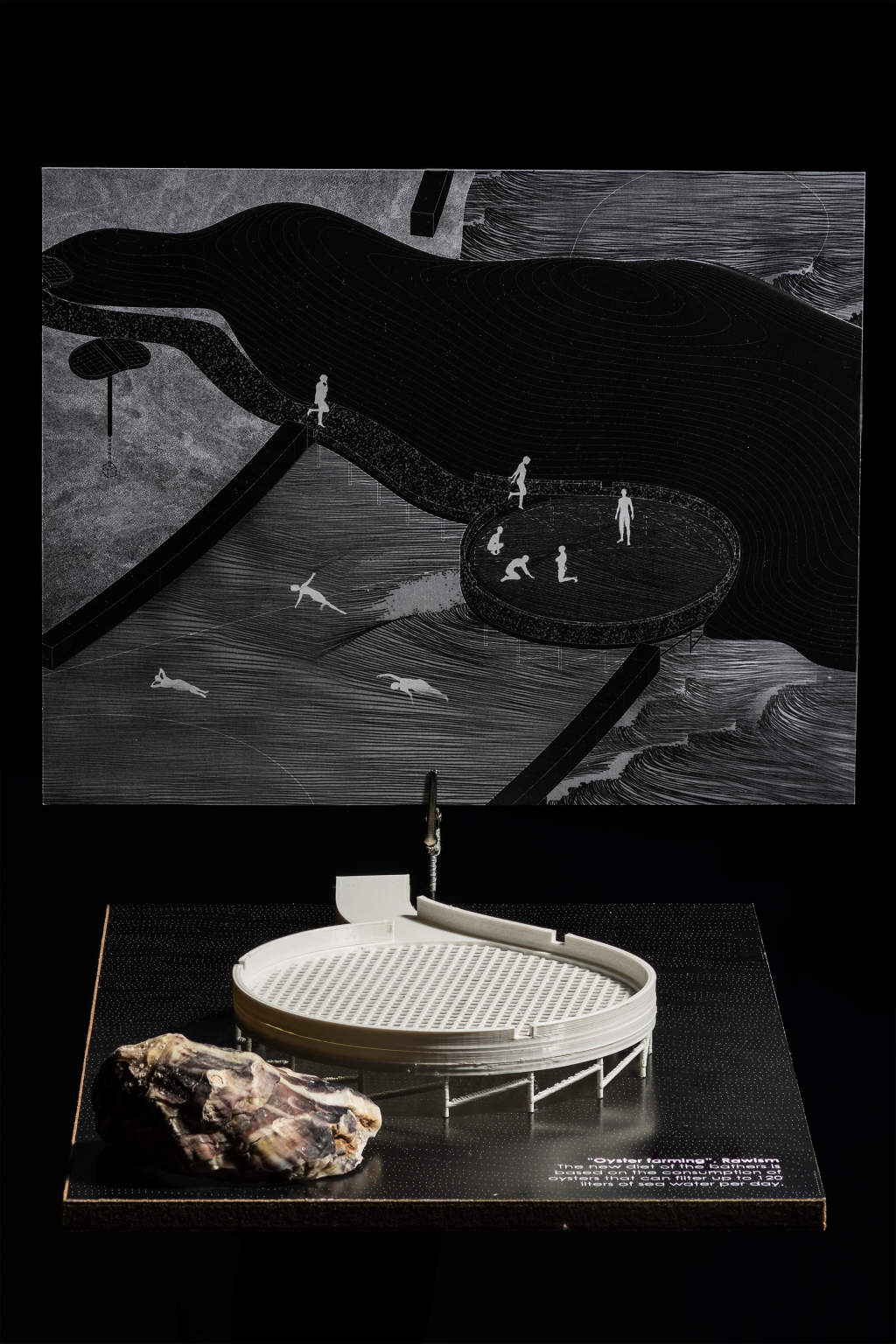 The beach diet is based on the consumption of shellfish, which can filter up to 120 litres of seawater a day.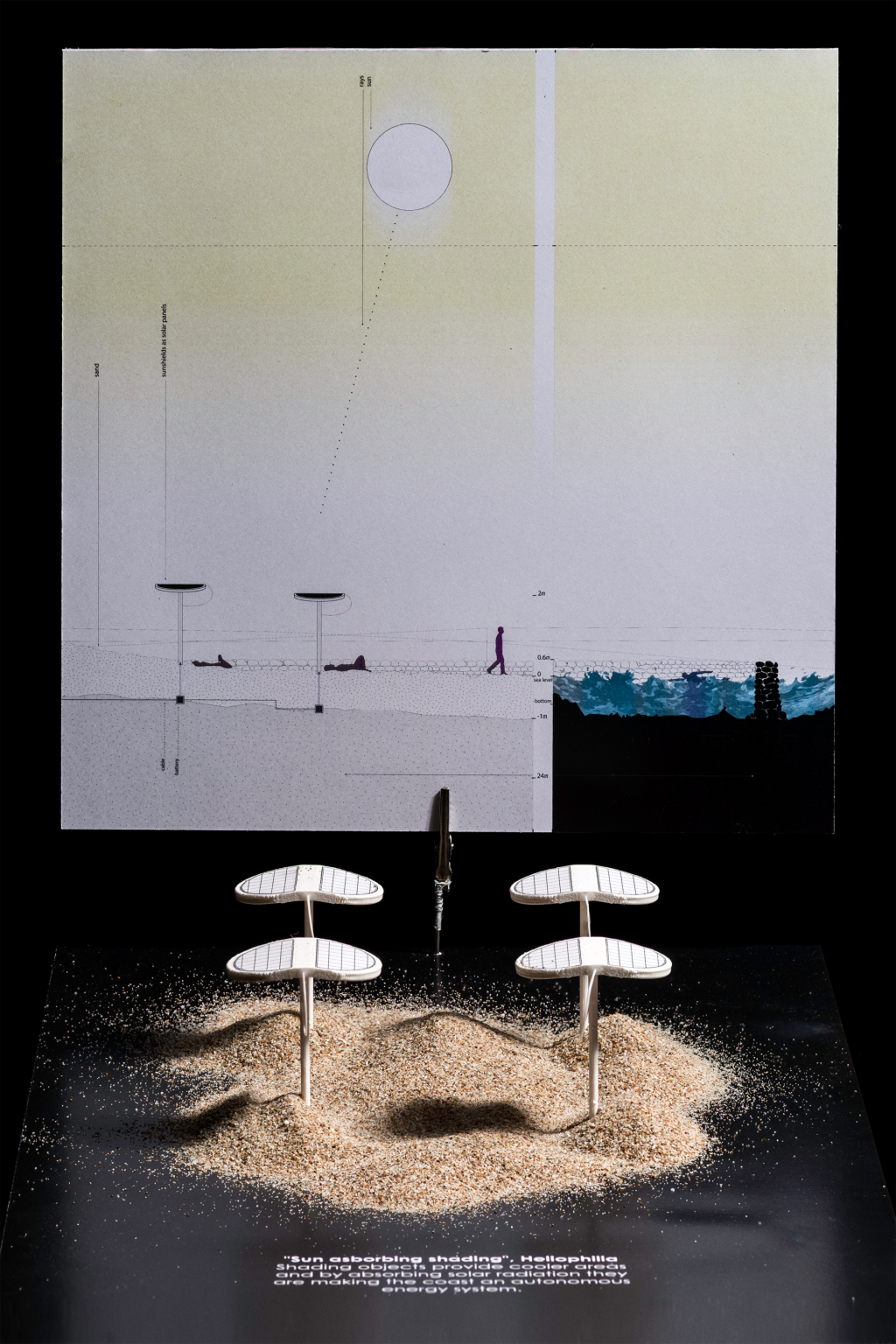 The new beach umbrella collects solar energy, making the entire beach landscape energy self-sufficient.
A meteorological and geological station ensures the safety of vacationers.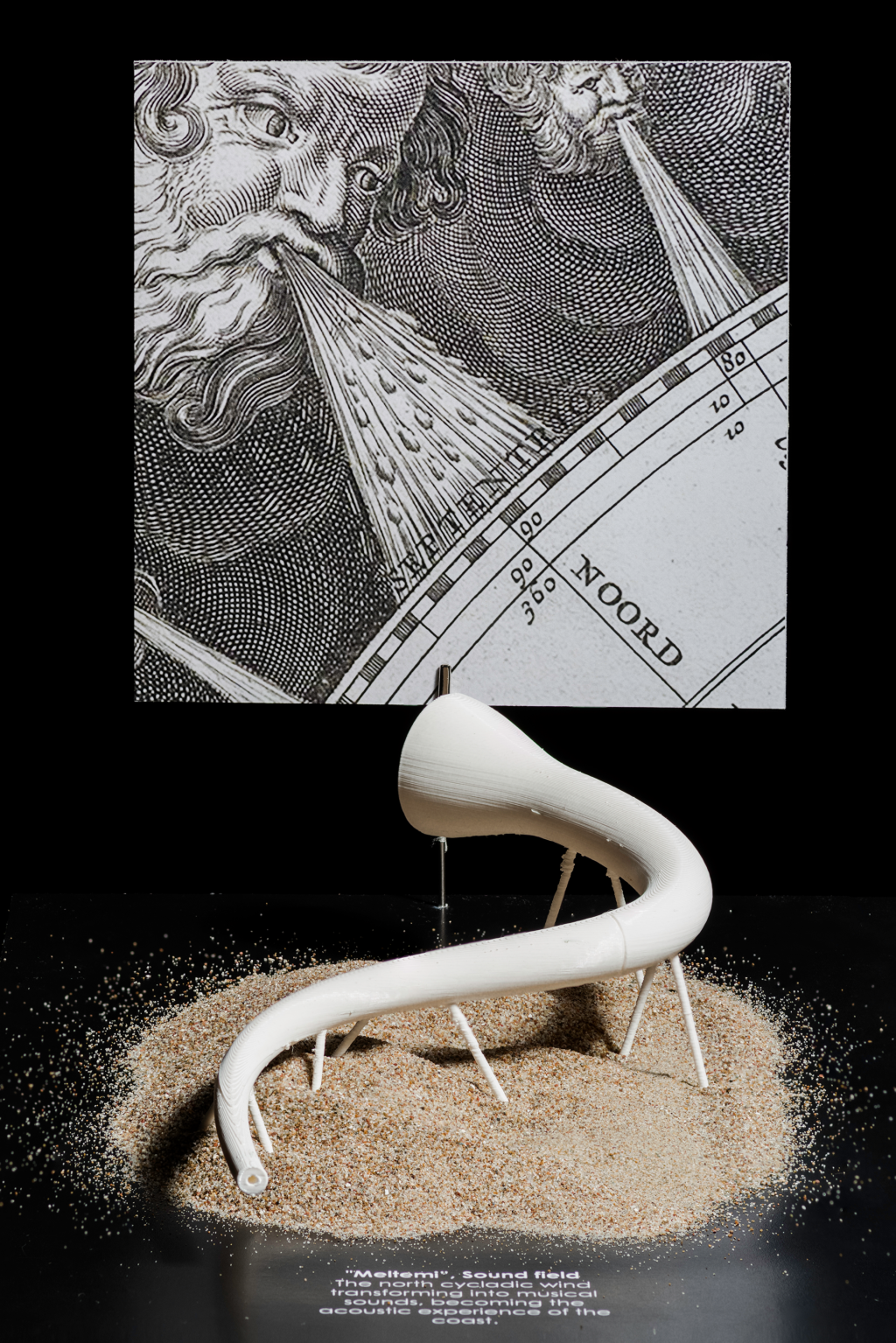 The north Cycladic wind "Meltemi" becomes the holiday melody of the hedonistic vacationer.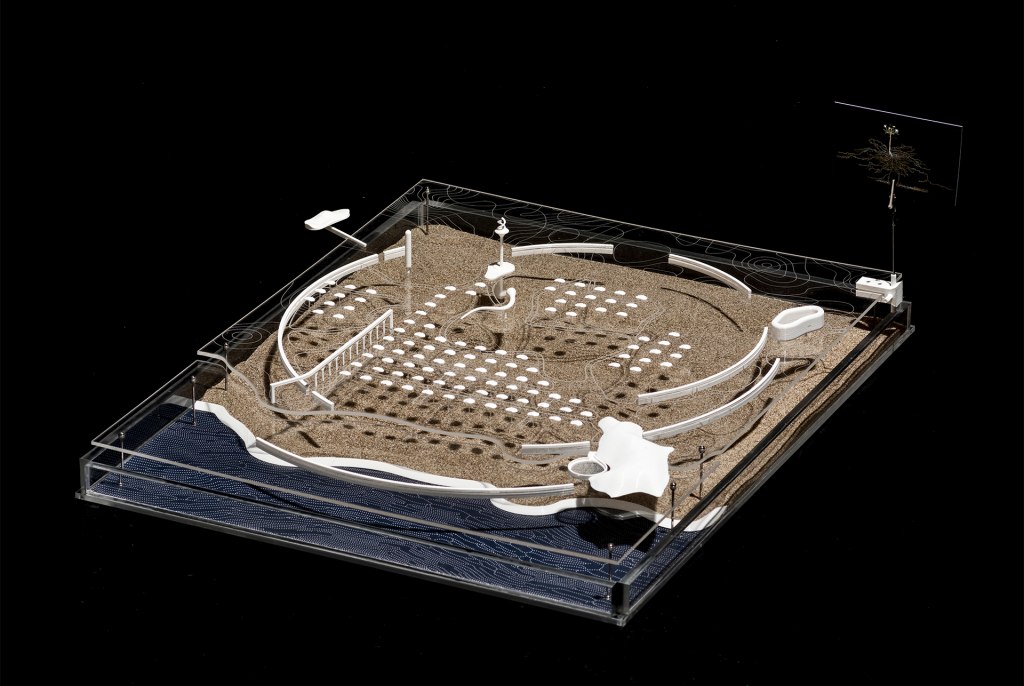 The Planta Ammoradix, the circular protected area and the 7 new beach mechanisms are the main elements of the project. A new beach world is proposed by redefining the organised beach programme and the vacationer's lifestyle.
"For the vacationer of the unwanted coast" positions an architectural mechanism between humanity's longing to preserve the culture of habitation, a marine space where jellyfish emerge from the abyss in search of coexistence, and the lasting memory of a vanishing landscape permanently affected by the consequences of coastal erosion.