Participation of the Department of Architecture, University of Patras at the "6th Tallinn Architecture Biennale" curated by Lydia Kallipoliti & Areti Markopoulou
Architects: Panos Dragonas, with Stelios Sakellariou, Alexandra Sapountzi, Margarita Togia, Athanasia Tsifoutidou, architecture students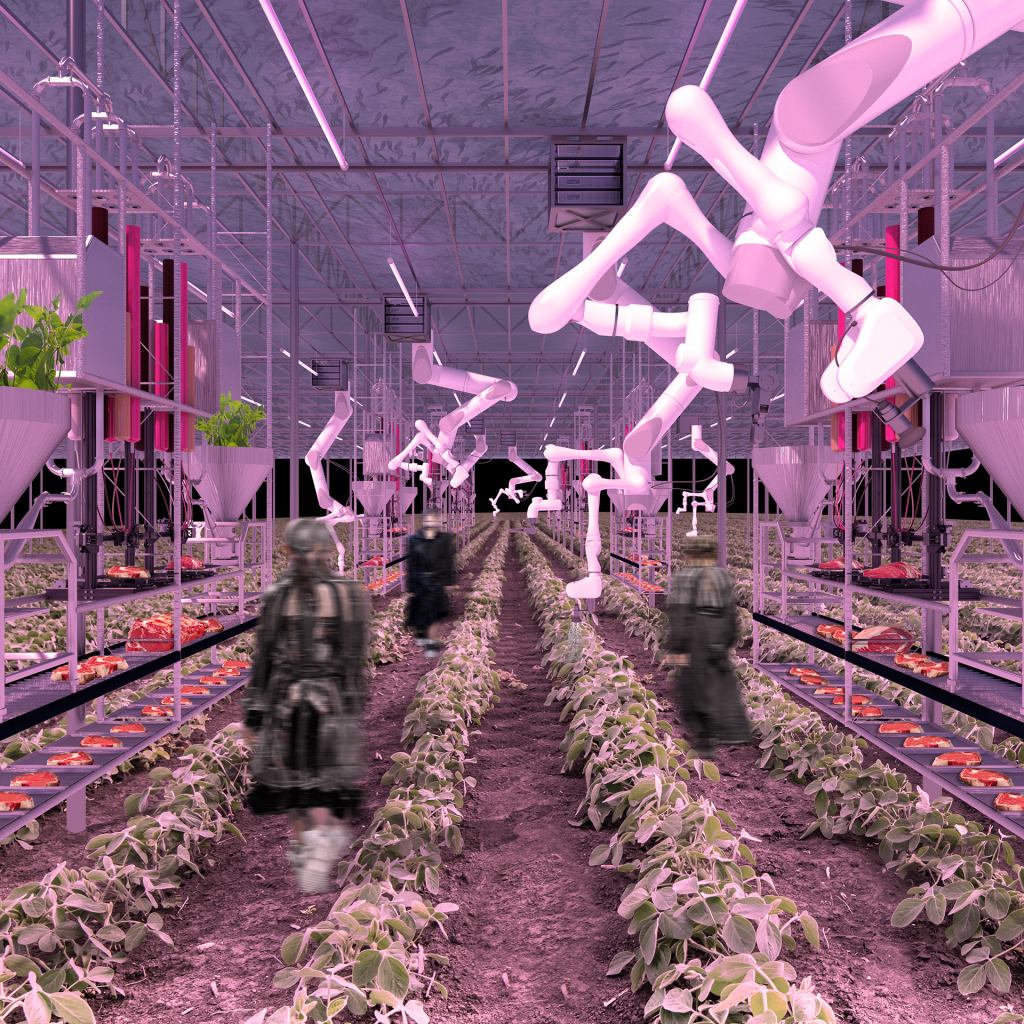 Humans walk among the crops, under the purple light of an endless greenhouse. They smell the scent of soybeans as fish swim in a transparent rooftop tank above them. They hear the high-pitched sounds of moving robot arms as automated machines print juicy steaks from blood-like liquids. This is the infrastructure that produces food for the human population of the mid-21st century. A domesticated landscape that surrounds the megalopolises and obliterates the wilderness of the countryside.
This is the place where the IKEA container and the model of the greenhouse have been identified. A fully automated infrastructure consisting of soya plantations, 3D printers for plant-based meat and aquacultures for fish farming. With the help of robots, these elements form an artificial food chain. The process is simple and continuous. Water from the aquacultures is used to feed the soy plantations. Soya and other ingredients, such as beetroot and coconut, are used to produce substances similar to muscle and blood. These substances will be used as fillings for 3D printed steaks. Finally, micro-organisms from the soil are used to feed the fish. Processing machines and robotic arms ensure maximum efficiency of the whole system.
Meat has been redefined. It looks like animal meat but is produced by a different process. It is now plant-based product. Without blood, muscle or fat, the new meat is defined solely by its distinctive appearance. Machines relentlessly print firm, bright cherry-red meat. In the middle of the 21st century, people are used to eating non-meat steaks whose appearance, taste and smell are remnants of a time in which they did not live. People have finally realised that meat is largely a cultural object that can be artificially produced. Maximum result with minimum effort.
Humans built this automated infrastructure to feed themselves without emitting CO2. At the moment when this grid-like structure reached the limits of the landscape, nature was completely homogenised. Planet Earth was domesticated. Humans took on the role of alienated hunter-gatherers, moving between crops and robots, scavenging in their own self-made landscape.